HINDU OUTFITS TELL MEDIA HOUSES TO NOT SEND WOMEN JOURNALISTS AHEAD OF SABARIMALA TEMPLE REOPENING
Home >
News Shots >
India
By

Behindwoods News Bureau

|

Nov 04, 2018 02:37 PM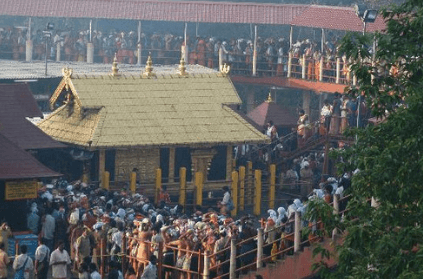 Several Hindu outfits in Kerala have been agitating against women of menstruating age entering the sacred Sabarimala Temple. With the temple all set to open tomorrow, the groups have urged media houses to not send female journalists to cover the issue.

The 'appeal' was issued by Sabarimala Karma Samiti, a joint platform of right wing outfits, including the Vishva Hindu Parishad (VHP) and the Hindu Aikyavedi, ahead of the temple's brief opening. This will be the second time the temple reopens after the Supreme Court's historic verdict, quashing the ban on women of menstruating age entering the shrine.

When the temple opened for monthly puja for five days last month, first time after the court order, women reporters, on their way to cover the occasion, were heckled, their vehicles attacked and young female devotees forced to turn back as protesters, including activists of Hindu fringe groups, laid a siege to the road leading to Sabarimala.

In its letter to editors, a copy of which was released to the media, the samiti said even the entry of women journalists belonging to this age group as part of their job was also likely to aggravate the situation.

The doors of the temple will be opened Monday evening for puja on the occasion of "Chithira Aattavisesham" on Tuesday, the birthday of last King of Travancore, Chithira Thirunal Balarama Varma. The temple will be closed at 10 pm on Tuesday but would reopen for darshan from November 17 for the three-month long annual pilgrim season.

*Originally published in News18*
next