THIS BRAND IS SELLING 'HUMAN SKIN BOOTS' FOR RS 7.4 LAKH A PAIR & IT'S THE WIERDEST THING EVER
Home >
News Shots >
World
By

Behindwoods News Bureau

|

Nov 04, 2018 01:07 PM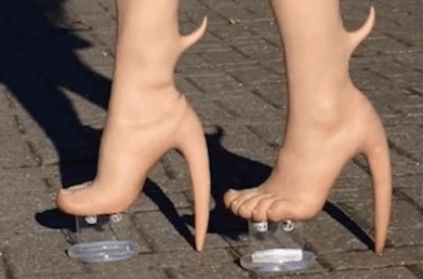 It's 2018 and fashion is on an all-time high. But then there are brands that believe in doing the unbelievable.

Canadian style duo Hannah Rose Dalton and Steven Raj Bhaskaran from fashion label Fecal Matter, have made some incredibly unique and futuristic designs in the past, but they've left the internet shook with their latest creation.

Ever wondered what a thigh-high boot made of your own flesh would look like? No we haven't either. However, Fecal Matter have brought it to life and the results are really weird.

According to a report in Daily Mail, Fecal Matter is selling boots that are made to look like human feet, with the heels shaped like extended bones. The thigh-high boots blend into the wearer's skin making them look like their actual feet. There's even a flesh-toned heel and devil horns coming from the back of the legs.
Priced at Rs 7,40,000 a pair, it first started as an experiment on Photoshop. But now they've become a reality. Fans couldn't believe it, and didn't know what was worse, the creepy design or the huge price tag.
Tags :
#INSTAGRAM #HUMAN SKIN BOOTS #WIERD #BUZZ #VIRAL #TRENDING
next