THIS OPTICAL ILLUSION OF A 'CROW' HAS GOT PEOPLE FREAKED OUT; BUT IT'S NOT WHAT IT SEEMS
Home >
News Shots >
World
By

Behindwoods News Bureau

|

Oct 29, 2018 04:01 PM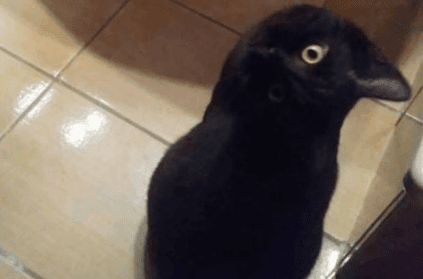 It's that time of the year when people are all ready to be spooked out - courtesy Halloween! What appears to be just another regular image of a crow has left people scratching their heads. Why?

Because the image is not what it seems. The creature in the image happens to be a cat, not a crow!

People can't help but be spooked out, especially with Halloween just around the corner. The image was shared by a Twitter user named Robert Maguire, who found the photo on Reddit. "This picture of a crow is interesting because…it's actually a cat," tweeted Maguire. Since being shared online, it has been retweeted over 32,000 times.

At first glance, the creature in the image appears to be a crow, photographed inside a house. But when you tilt your head or inspect it further, you realise it's actually a cat.
This picture of a crow is interesting because...it's actually a cat pic.twitter.com/dWqdnSL4KD

— Robert Maguire (@RobertMaguire_) October 28, 2018
Here are some reactions to the spooky image
October 28, 2018
We are masters of catouflage.

— Thoughts Of Cat (@ThoughtsOfCat2) October 28, 2018
When I first saw the pic I said where is the cat? 😂

— Bombi the Tiel 🎃👻 (@BombiTiel) October 28, 2018
🤣😂🤣😂🤣👍🏽 My first thought was...that is a WEIRD looking bird!!! What kind of bird is that?! 🤣😂🤣😂

— Parrot Town (@ParrotTown) October 28, 2018
Tags :
#TWITTER #OPTICAL ILLUSION #VIRAL #BUZZ #TRENDING #CROW OR CAT
next