CAUGHT ON CAM | WOMAN & BABY SENT FLYING IN AIR AS TYRE EXPLODES IN FRONT OF THEM
Home >
News Shots >
World
By

Behindwoods News Bureau

|

Oct 25, 2018 10:11 AM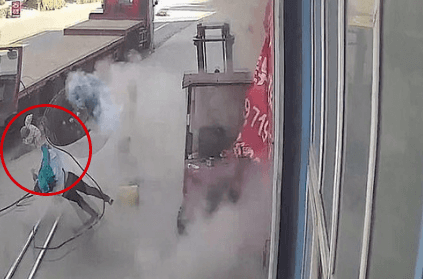 In a freak accident caught on camera, a baby was blown out of his mother's arms in the middle of a street, when a tyre exploded right in front of the duo.

The entire incident was caught on camera, and posted online. In the video, the mother, carrying her baby in arms, can be seen walking down the road. She stops as she sees the tyres being pumped with air. As she goes to make a move, the tyre suddenly explodes.

The explosion led to the mother and her baby being thrown nearly three feet in the air. Both the baby and the mother sustained injuries due to the force of the explosion.

The accident occurred at a garage in Central China. The woman, whose identity has not been revealed, works for the auto repair store. Her son is less than a year old.

According to police, the workers had apparently left the tyre to inflate. The woman walked straight into the area, unaware of the danger. As the tryre exploded, it hit her in the face, throwing her face down into the ground. Her baby was thrown out of her arms due to the impact.

The workers had forgot to turn off the inflator, which led to the accident, police said.
Tags :
#ACCIDENT #CHINA #EXPLOSION #VIRAL VIDEOS #TRENDING
next