BABOON HOLDS NEW BORN BABY UP IN AIR JUST LIKE AN ICONIC SCENE FROM THE LION KING MOVIE
Home >
News Shots >
World
By

Behindwoods News Bureau

|

Oct 21, 2018 01:07 PM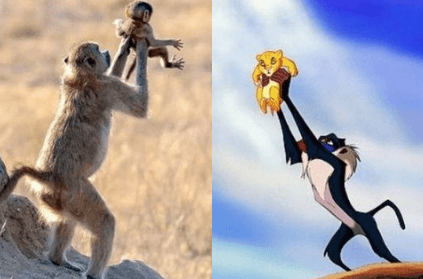 It's called the 'Circle of Life' and one of the most powerful and stirring scenes from one of Disney's classic films - The Lion King. The scene where Simba is lifted above the African planes, has now been re-enacted in real life.

Photographer Dafna Ben Nun was in Zimbabwe, where she was on a trip to understand more about the local wildlife. That is when she spotted the amazing moment.

"I couldn't believe it when I saw an adult baboon holding a baby, looking exactly like Simba in 'The Lion King,'" she told Caters News Agency."It was just a split second, but it was fascinating to watch." Side-by-side the animals in the photo are in almost the exact same position as Rafiki and Simba were in the Lion King scene where the cartoon baboon introduces the cub to the rest of the animals.

It is unclear why this animal was holding up the baby, but Ben Nun said the moment only lasted a few seconds and then the baboon set the baby down and both rejoined a group of others nearby.
Tags :
#FACEBOOK #THE LION KING #ICONIC PHOTOGRAPHS #DISNEY #BUZZ #VIRAL #TRENDING
next