ENGINEER TURNS GUITAR TEACHER; CHARGES ONLY RE 1 PER DAY
Home >
News Shots >
India
By

Behindwoods News Bureau

|

Oct 21, 2018 12:35 PM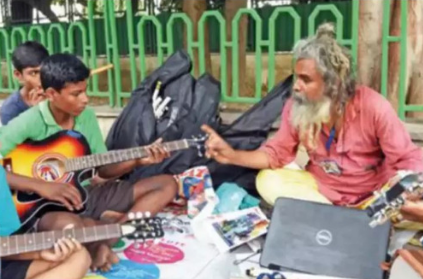 If you happen to go to the Andhra Bhavan in New Delhi between six and nine in the morning, you will get to see a middle-aged man sitting on the pavement and teaching his students how to play the guitar. If you talk to the man, you will find out how he also sells the instrument and charges only Re. 1 per day for teaching.

The man, SV Rao, better known as 'Guitar Rao', is a civil engineer from Andhra Pradesh. Rao is on a mission to convince Prime Minister Narendra Modi to start a Sangeet Bharat campaign on the lines of Swachh Bharat.

"I have taught more than 1,000 people so far," he says. Of them, 160 have come his regular students. Some of his students also include Delhi police personnel, who come in the evening after a hard day's work to learn and indulge in music.

Rao was earlier employed with an MNC. He quit in 2009, and eventually ended up in debt. He moved away from his family and ended up into depression. In 2010, he went to the Tirupati temple and started learning instruments from a music school. Slowly getting his groove back, he came back to his family and found his love in music.

Rao will be shortly graduating in music from Telangana University, and also hopes to earn a PhD in the art. In addition to guitar, Rao also plays the keyboard, violin and flute. Rao came to Delhi with the hope of meeting PM Modi, and urge him to start a Sangeet Bharat campaign.

"Learning music must be made compulsory for all students in school," he says. Rao teaches music to those in need. "Despite their love for music, many people cannot afford to learn music. My endeavour is to teach them music at a minimal cost," he added.
*Originally published in The Times of India*
next