'FLOCCINAUCINIHILIPILIFICATION': SHASHI THAROOR'S 29-LETTER WORD TO DESCRIBE HIS NEW BOOK ON PM MODI
Home >
News Shots >
India
By

Behindwoods News Bureau

|

Oct 10, 2018 07:24 PM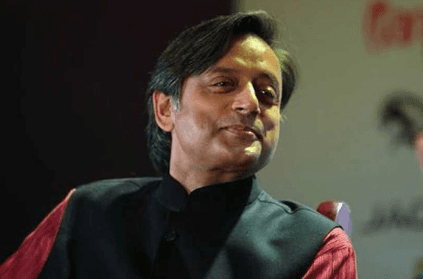 Congress MP Shashi Tharoor is at it again. Tharoor has once against introduced people to a difficult and near-unpronounceable word. He used the word to describe his new book on Prime Minister Narendra Modi as "more than just a 400-page exercise in "floccinaucinihilipilification".

Tharoor's command over English is well known. But it just so happens that he has, more often than not, left audiences and Twitter perplexed with his choice of words. We all remember his "Exasperating farrago of distortions, misrepresentations & outright lies" and "rodomontade" tweets that made us flip the dictionary. And now he is back at it.
My new book, THE PARADOXICAL PRIME MINISTER, is more than just a 400-page exercise in floccinaucinihilipilification. Pre-order it to find out why!https://t.co/yHuCh2GZDM

— Shashi Tharoor (@ShashiTharoor) October 10, 2018
That long 29-letter word at the end of the caption may seem like a keyboard malfunction. But it is actually a word in the dictionary which means, "the action or habit of estimating something as worthless."
His tweet has now gone viral, with people taking digs at the Congress leader's use of elaborate words. Here are some reactions.
Thanks sir, will try to read. Hope the book doesn't give me pneumonoultramicroscopicsilicovolcanoconiosis ! Now your turn to google...

— The-Lying-Lama (@KyaUkhaadLega) October 10, 2018
Tumdonokimakasakinakasaremilkehumkopagalbanarahehaimckebachee

— Pun of God (@Punofgod) October 10, 2018
I am wondering what Shashi Tharoor's Siri is like. Does she ask Shashi the meanings of words instead of it being the other way round?

— Alok Badri (@alok_TTID) October 10, 2018
His Siri might have committed suicide already. @ShashiTharoor might be the person AI companies are secretly hoping to build an assistant for.

— Bhavya Johar DellEMC (@BhavyaDellEMC) October 10, 2018
I'll have to order a dictionary first, sir ;-)

— Anuraag Saxena (@anuraag_saxena) October 10, 2018
I get a feeling of floccinaucinihilipilification when I don't know the meaning of floccinaucinihilipilification

— Chacha Vidhayak Hai (@YeLaundaSakhtHa) October 10, 2018
next