HARRY POTTER FANS LEFT SPEECHLESS AFTER LORD VOLDEMORT GETS A NEW MAKEOVER; WATCH VIDEO
Home >
News Shots >
World
By

Behindwoods News Bureau

|

Oct 10, 2018 03:04 PM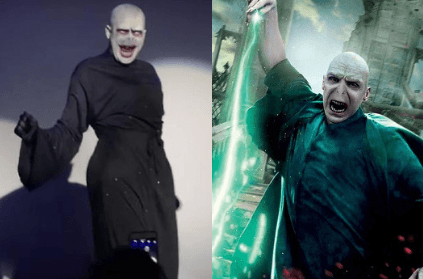 It's been close to 21 years since the release of the first Harry Potter book. Even after all these years, fans can't get over the magical world of witchcraft and wizardry.

The Harry Potter franchise has only grown bigger with each movie and book. It's so popular that even after 7 years of the final movie release, Harry Potter characters continue to make headlines. And now one of the most important characters of the movie has been given an extreme makeover - The 'Dark Lord' himself.

Lord Voldemort has been given an unlikely makeover thanks to a performer called 'Florida Man'. The performer has made headlines for a performance as 'Lady Voldemort', a female version of the Harry Potter film antagonist.

No surprise, it is truly the weirdest yet most amusing thing you'll see for some time. Wearing a long black robe, the performer is seen lip syncing to a song. And then goes on to rip off the robe and reveal a black bodysuit. Few minutes later, a man dressed as Harry Potter takes centrestage.

And then we witness it. The epic wand duel between 'The Chosen One' & 'He Who Must Not Be Named'.

"A few months ago, I produced a Harry Potter tribute show called She Who Must Not Be Named and did my first number as Lady Voldemort. It was so fun and so absurd that I knew I wanted to bring the character back in wilder situations," 'Florida Man' told Teen Vogue.

Needless to say Harry Potter fans were stunned by the performance. Watch the video here
Tags :
#TWITTER #HARRY POTTER #LORD VOLDEMORT #JK ROWLING #VIRAL VIDEOS #TRENDING
next