DOCTOR OPERATES ON 8-YEAR-OLD BOY'S TEDDY BEAR BEFORE TAKING HIM FOR SURGERY
Home >
News Shots >
World
By

Behindwoods News Bureau

|

Oct 04, 2018 10:51 AM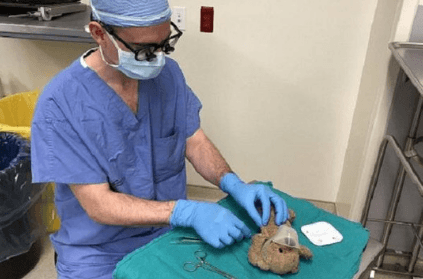 A surgeon in Canada has performed a daring operation without anesthesia - on a teddy bear. While he had no prior experience of operating a teddy bear, Dr. Daniel McNeely agreed to do so on the request of an 8-year-old boy.

8-year-old Jackson McKie was heading for a surgery when he asked the doctor if he could fix his cuddly toy. Mckie is suffering from a brain condition and Dr. McNeely has been one of the boy's primary neurosurgeons since his birth.

Dr. McNeely put out a tweet of his patient's request, which has melted everyone's hearts.
Patient asks if I can also fix teddy bear just before being put off to sleep... how could I say no? pic.twitter.com/WOKFc5zr91

— P. Daniel McNeely (@pdmcneely) September 30, 2018
The teddy bear, diagnosed with a slight tear in the underarm, was administered with an "oxygen mask" during the procedure. The surgeon's tweet has now gone viral, leaving netizens feeling warm and fuzzy
This made my day :) love the mask !

— Ayoub Dakson (@AyoubDakson) September 30, 2018
Beautiful! I hope your brother is feeling better real soon. Sending Bear Hugs to you both! 🐻XX🐻

— fm (@FlynneMorris) October 3, 2018
Oh my God. You are a special man. Your patients are lucky to have you.

— Irving Gold (@IrvingGold) October 1, 2018
The littlest bit of kindness goes a long way! 🐻🤗👍 #CaringForABear #ToHugAnotherDay

— UF Stem Cell Study (@UFStemCell) October 1, 2018
The boy's family said that they are grateful that the doctor went the extra mile to make their boy feel comfortable before surgery. Both the boy and his teddy bear are now recovering after successful procedures.
next