WATCH VIDEO | BRAVE 8-YEAR-OLD GIRL CONFRONTS ARMED ROBBERS WHO ATTACKED HER PARENTS
Home >
News Shots >
World
By

Behindwoods News Bureau

|

Oct 03, 2018 11:14 AM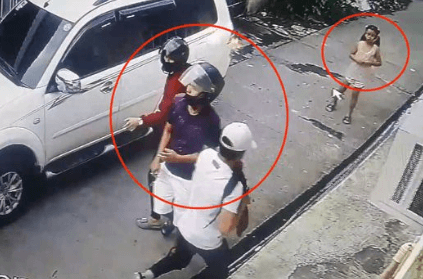 An 8-year-old schoolgirl from Cavite, Philippines is being hailed as a hero online, after she confronted armed robbers, who broke into her house and attacked her parents.

Brielle Minia was playing on the road beside her house, when 4 men walked past, posing as DVD sellers. Three masked-men approached the girl's father and held him at gunpoint to steal his cash. Meanwhile, one person from the gang raided the family's home.

CCTV footage of the incident reveals the astonishing moment the little girl ran after the robbers as they barged out of the house. Donning a pink dress, the 8-year-old girl lunged after one of the men, who carried a semi-automatic weapon, without any fear or hesitation.

She grabs the bag the robber had stolen and covers it with her body in an attempt to protect her parents' valuables.

Here's the CCTV footage of the incident
Brielle holds on to the bag for dear life, but the robbers manage to get it out of her hands and run towards their vehicles parked at the end of the road. The girl again runs towards the men as they attempt to flee the scene.

The robbers then kick Brielle before driving off. The girl sustained a broken nose and some cuts on her arms and legs. The internet has come together to laud the girl's bravery despite the men carrying guns.

"I'm so angry they stole my daddy's money. If I ever see them again they'll be sorry. The money belonged to my family. I wanted to help them. They worked hard for it," Brielle told DailyMail.
next