HILARIOUS! LAW STUDENT ATTENDS GRADUATION CEREMONY DRESSED AS SPIDER-MAN; WATCH VIDEO
Home >
News Shots >
World
By

Behindwoods News Bureau

|

Oct 03, 2018 09:50 AM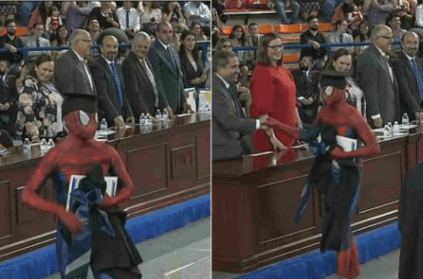 University graduation ceremonies are memorable events. They are a celebration of all the hard-work, dedication, and knowledge gained over the period of study. At the same time, they can also be boring - courtesy the lengthy speeches and long wait.

One such student decided to make his graduation ceremony more lively - by dressing up as Spider-Man.

22-year-old Hiram Yahir Salas Romero is a law graduate from the Autonomous University of Ciudad Juarez in Mexico. Romero wanted to make the celebrations more lively and thus turned up, dressed like the web-slinging superhero. And looks like it worked!

The graduation ceremony had a dress code that required students to put on suits. But Romero snuck out to change to his alternate outfit. A video of him collecting his degree, dressed as Spider-Man has now gone viral on the internet.

While some people found it amusing, the 22-year-old says how there were some who booed him, as he went up to collect his degree.

"None of the authorities said anything. They just looked at me unhappily. I don't remember if the Rector said anything, but I think I got a smile out of him," said Romero.

While collecting his degree, Romero carried a sign with the message: "For the love of my life, my mother." He said that his mom not only supported him through his journey, but also paid for the spidey costume.

The 22-year-old said that Spider-Man is an inspiration for him because he is a "human with problems but also with the desire to help people with his special powers and intellect."
next