WATCH VIDEO | HUNGRY BEAR OPENS CAR DOOR; STEALS BAG OF FOOD
Home >
News Shots >
World
By

Behindwoods News Bureau

|

Sep 28, 2018 02:50 PM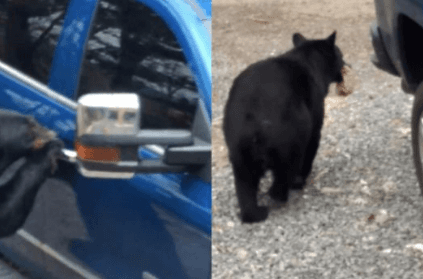 They say that when you're hungry, you'll do anything to get your hands on some food. That was exactly what happened when a bear wanted some food.

In a rather bizarre video shared on Facebook, a bear can be seen opening the door of a car, reaching in and grabbing a bag of food, and walking away like it's no big deal. The video, posted by a Facebook user Karen Simington Hogarth, shows her husband's encounter with the animal.

The 52 second clip shows the bear walking up to the car. After probably smelling the food kept inside, the bear stands up on its hind legs and opens the car door using its paw. Seconds later, the bear picks up a bag of food kept inside the car, and walks away with it.

Click here to watch the video

"But what isn't on the video, he came back about 10 minutes later and Matt, the heat and air guy, locked his doors at that point and that bear came back and was opening every door," Mr Hogarth told Wate.com. He also said that the bag pulled out by the bear only had garbage in it.
Tags :
#FACEBOOK #BEAR #HUNGRY #VIRAL VIDEO #TRENDING
next