102-YEAR-OLD INDIAN WOMAN WINS GOLD MEDAL AT WORLD MASTERS ATHLETICS CHAMPIONSHIP
Home >
News Shots >
Inspiring
By

Behindwoods News Bureau

|

Sep 14, 2018 04:18 PM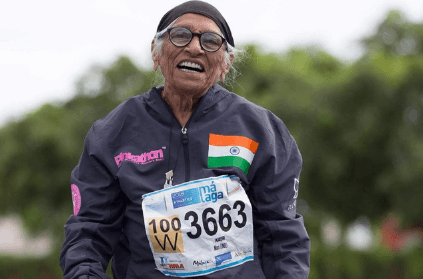 "Age is just a number" - This quote has been proven by India's oldest female athlete Man Kaur. Hailing from Patiala in Punjab, the 102-year-old athlete has made India proud by clinching the gold medal at the World Masters Athletics Championship in the 200 metre race.

According to a report in History TV18, Kaur began her career at the age of 93, after being encouraged by her son Guru Dev. "When she ran for the first time, she completed a 100 metre track in 1 minute and 1 second," her son said.

Twitter has been flooded with messages in support of the athlete after former actor and supermodel Milind Soman tweeted about her victory.
LOOK AT THAT SMILE !!! Man Kaur from India wins the 200m GOLD in the World Masters Athletics #WMAMalaga2018. Age group 100- 104 years!!
What a privilege for every person in the world to see her in action and to share her joy 😊😊#PinkathonFOREVER pic.twitter.com/hDvWc3EVVf

— Milind Usha Soman (@milindrunning) September 11, 2018
Incredible 👏🏽 😊 more power to her and all others who believes in themselves ❤️.

— Jay Shankar (@JJustJazzy) September 11, 2018
Salute to "Man Kaur" for her stunning performances. We all wish her to keep going as it. And also she is an inspirational woman to make us motivated..

— Amit_Unite&respect (@mgodandme) September 14, 2018
#ManKaur is a role model for all of us...There is no age limit to follow your dreams. Congratulations #ManKaur on winning 200m Gold in the World Masters Athletics #WMAMalaga2018 💐👏🙌

— ruchiangrish (@RuchiAngrish) September 14, 2018
Beyond belief

— NiteshRunning (@Nitesh9999) September 11, 2018
This is not the first time Kaur has won a gold medal. Last year, she won gold in the 100 metres category at the World Masters Games in Auckland, New Zealand.
Amazing 101 year old completing the 100m @WMG2017 #WMG2017 pic.twitter.com/wUEcPHThv0

— Wɐʎuǝ Qnǝpןǝʎ (@UUJQ) April 23, 2017
Tags :
#TWITTER #ATHLETICS #TRENDING #VIRALS
next