TEACHER'S DAY SPECIAL: NATION PAYS TRIBUTE TO DR. SARVEPALLI RADHAKRISHNAN
Home >
News Shots >
India
By

Behindwoods News Bureau

|

Sep 05, 2018 10:55 AM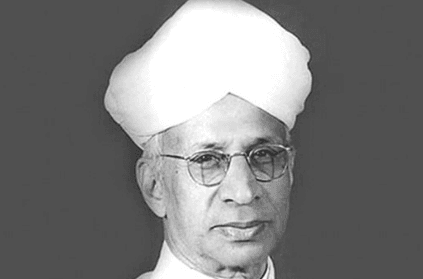 September 5th is the birth anniversary of Dr. Sarvepalli Radhakrishnan. The day is also celebrated as Teacher's Day, to pay homage to the exemplary teacher, philosopher and scholar. Dr. Radhakrishnan dedicated his life to education and shaping the youth of the country.

Dr. Radhakrishnan, who was elected as President, was requested by people to celebrate his birthday. Instead of celebrating his birthday, he said that he would be honoured if his birthday could be celebrated as teacher's day to pay respect to the teachers and their service to the society.

On this Teacher's Day, tributes have come pouring in for the extraordinary teacher. Prime Minister Narendra Modi, sports personalities, film stars and others have paid their tributes for Dr. Radhakrishnan.

Here are some of the top reactions in memory of the distinguished teacher
Greetings to the teaching community on the special occasion of #TeachersDay. Teachers play a vital role in the shaping of young minds and building our nation.

We bow to our former President and a distinguished teacher himself, Dr. Sarvepalli Radhakrishnan on his Jayanti. pic.twitter.com/npYEzhAYyw

— Narendra Modi (@narendramodi) September 5, 2018
I extend my warm greetings and good wishes to all Teachers on the occasion of National Teachers' Day today. Teachers are nation-builders, who shape the caliber and character of our children. Teacher or a Guru is a source of enlightenment & empowerment. #TeachersDay #Education pic.twitter.com/4upObWhRHL

— VicePresidentOfIndia (@VPSecretariat) September 4, 2018
Today is #TeachersDay. Teachers are our gurus. The guru-sishya parampara is a gift of India to the world. In recognition of the contribution of teachers in schools, colleges and universities, our Govt felicitates outstanding teachers with "Siksha Ratna Samman" on Teachers' Day

— Mamata Banerjee (@MamataOfficial) September 5, 2018
Happy Teachers Day To Everyone Who Is Rising By Uplifting Others !!! #TeachersDay

— Vijender Singh (@boxervijender) September 5, 2018
Teaching should not be a profession – it must be a passion. Only then can education move from imposition of facts to exploration of truth. #SadhguruQuotes #TeachersDay pic.twitter.com/7YsVAP65Py

— Sadhguru (@SadhguruJV) September 5, 2018
Internationally renowned sand artist Sudarsan Pattnaik also paid his homage to Dr. Sarvepalli Radhakrishnan with his art.
Remembering an exemplary teacher, great philosopher and former President of India Dr. Sarvepalli Radhakrishnan on his birth anniversary.
Happy #TeachersDay⁠ ⁠ to all respected teachers. One of my SandArt. pic.twitter.com/60wqrtyCnW

— Sudarsan Pattnaik (@sudarsansand) September 5, 2018
Celebrate the nation's 57th Teacher's Day and let your teachers know how much you appreciate and value all they have done for you.
next