TEEN SOLVES SIX RUBIK'S CUBES UNDERWATER IN A SINGLE BREATH; WATCH THE VIDEO HERE
Home >
News Shots >
World
By

Behindwoods News Bureau

|

Aug 29, 2018 06:24 PM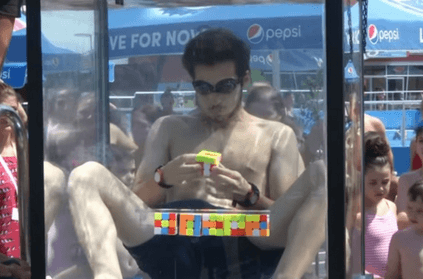 Have you ever tried solving a rubik's cube? While it can be a daunting task for some, others have mastered the art.

In a bid to set a new Guinness World Record, an 18-year-old teen from Georgia solved six rubik's cubes underwater in one breath. The amazing feat was documented on camera.

Vako Marchelashvili was submerged in a glass tank filled with water for over a minute and 44 seconds. The crowd at the Gino Paradise Water Park watched as Marchelashvili twisted and turned to solve all six cubes. The teen was closely monitored by the Georgian Records Federation officials and he was presented with a diploma to confirm his record-setting feat.

"I trained a lot, planning to break a record and ensure my safety. Even a small mistake could be dangerous and life-threatening," claimed the teen. "I think my result will stay as a record for a long time. I hope to break many other records."

Watch the video here
next