VIRAL: MAN LIGHTS ROCKETS LIKE A DAREDEVIL; WATCH THE VIDEO HERE
Home >
News Shots >
India
By

Behindwoods News Bureau

|

Aug 29, 2018 04:10 PM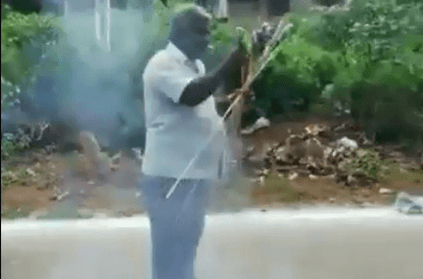 *Disclaimer: Smoking is injurious to heath. Please do not try this stunt at any place*
The world is full of people who are ready to attempt the most craziest stunts ever seen. In a video that has been doing rounds on social media, an unidentified man was seen lighting fireworks on the road using a lit cigarette between his lips.

The video shows the man in an unidentified location, holding multiple rockets, and lighting them one-by-one using a cigarette that he was smoking. Like a daredevil, the man lit all the rockets and blew all of them in a matter of 20 seconds.
Watch the video here
I'm sorry @NASA 😁 pic.twitter.com/ITur4daVsI

— ㅤ ㅤ ㅤ ㅤ ㅤ ㅤ ㅤ ㅤ (@PyarSeMario) August 28, 2018
As soon as the video hit social media platforms, internet users went crazy with the man's skills. Many of them have now shared the video, tagging NASA and SpaceX to highlight the man's crazy 'rocket launching' skills.
this diwali 😂

— Amber Raul (@amberaul12) August 28, 2018
Now NASA will copy this

— 2019 Election✍️ (@HmmmHoney) August 28, 2018
Like a boss pic.twitter.com/kIBvvWGilp

— MAK (@AzarKhanM) August 28, 2018
@NASA hope not feeling jealous!!... 😂

— Munni Behen MBBS (@shivani_rgt) August 28, 2018
Tags :
#TWITTER #VIRALS #TRENDING #FIREWORKS #ROCKET
next