THIS TEA-SELLER HAS BECOME INTERNET'S NEW CELEBRITY; HERE'S WHY
Home >
News Shots >
India
By

Behindwoods News Bureau

|

Sep 11, 2018 04:03 PM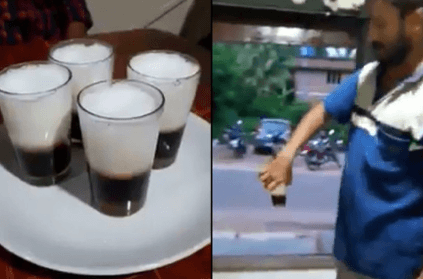 A quick Google search will tell you that tea is the most popular beverage in India. While some do enjoy caffeine in the morning, a cup of tea is unbeatable, as claimed by the majority.

And then, come evening, we can't do without our tea and biscuits. This is also the perfect opportunity for roadside tea-sellers to come up with quirky ideas to attract people. A new video making rounds on social media shows a skilful tea-seller who delivers a unique experience to customers.

The 40-second clip shows a tea-seller from Kerala prepare 4 glasses of tea. But wait, it isn't any ordinary glass of tea. The hot beverage is separated in three different layers - tea, cream, and froth. But then tea is mean to be enjoyed not as separate flavours, but as a concoction.

The real drama begins when the man picks up the four glasses, one after the other, swirls them around so swiftly without spilling a single drop. And voila, tea is served!
Take a look
How tea is served at The Chappati Factory in Ponnani, Kerala. 🇮🇳 pic.twitter.com/8cxJctMrJT

— Megha Mohan (@meghamohan) September 9, 2018
Twitterati were soon left wondering how the man managed to pull off this stunt. Some tried applying the laws of physics, while others felt that the man deserves a Padma Shri for this amazing act. Here are some of the best reactions
Unless physics isn't functional up there .......So basically he is using his palm to stop the concoction from falling out while inverting the glass ?

— Dòn Feldër (@Grieshnak) September 9, 2018
Watching too many @rajinikanth movies might have this effect 😊😊😊

— Saravanan 〽️ (@Holaydiver) September 11, 2018
New @Marvel super hero :. The TeaMen !

— Uncomfortably Dumb (@UncomfortablyD) September 9, 2018
Brilliant... hope he gets the Padma Shri,at least he deserves it and he could benefit from the tokenism towards his state.

— arvind bhanumurthy (@ariputtar) September 10, 2018
next