WATCH: IMPATIENT DRIVER GETS OUT OF HIS CAR, TAKES DOWN TRAFFIC SIGNAL
Home >
News Shots >
World
By

Behindwoods News Bureau

|

Sep 07, 2018 05:55 PM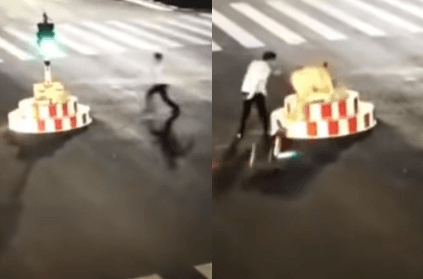 The traffic signal can be a troublesome place at times. The red signal can be very annoying, especially when you are pressed for time. But it looks like a man finally ran out of patience.

Tired of waiting for the signal to turn green, the man got out of his car and took down the traffic light. CCTV visuals show the man getting out of his vehicle, running towards the light and knocking it off its stand.

The CCTV visuals have been posted on Facebook by The Shanghaiist. Take a look
It is unclear as to how long the man waited for the signal to turn green, before jumping out attacking the signal. After taking it down in a fit of rage, the driver can be seen strutting back to his car. The man was later caught by the local police, who detained him for five days. He also had to pay a hefty fine for damaging public property.
Moral of the story: a couple of minutes of waiting is always better!
next