WATCH: LION JUMPS INTO SAFARI VEHICLE; GIVES TOURISTS THE SHOCK OF THEIR LIVES
Home >
News Shots >
World
By

Behindwoods News Bureau

|

Sep 07, 2018 10:08 AM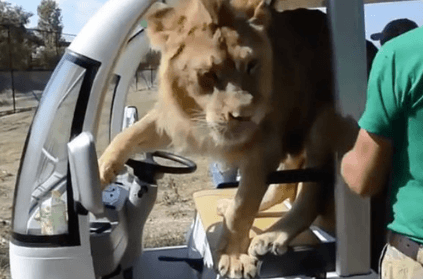 The safari is an exciting place. No matter how old we are, there's a certain level of excitement on getting to see animals at the safari park. But, what would you do if a lion jumps into your vehicle?

In a viral video, that was captured at the Taigan Safari Park in Ukraine, a lion can be seen hopping onto a vehicle full of tourists. Just when you'd expect things to go wrong, the lion leaned on the tourists with affection, and started licking them.

The lion, now identified as Filya, was excited on seeing people, and decided to play with them. The animal jumped on the front seat, put its paws on the wheel and even tried to turn the vehicle. The tourists remained calm, and filmed the entire interaction.
Man's new best friend? This extremely friendly lion just wanted some affection from tourists at a Crimean safari park—and climbed right into their car to get it: https://t.co/udvFcrOd5J pic.twitter.com/SUqAIEQS8N

— ABC News (@ABC) September 5, 2018
The tourists can be seen laughing and petting the animal. Some of the tourists started to cuddle the lion, who sat on top of the tourists. The safari park is popular for allowing close interaction with animals. The video was filmed just weeks after a woman was bitten by another lion at the same park
The friendly lion has won over hearts on social media. Here's how people reacted.
No way in hell! 😳😳😳👎🏻😬 pic.twitter.com/kWTPZUrVbb

— Victoria (@Ma_2twz00) September 5, 2018
Thats so cute 😍 but HELL NO!!!!

— Tina 🌊 (@winelovinchick) September 5, 2018
Lap cat 😂😂😂😂😂 cute and terrifying.

— OneBrokeMom (@OneBrokeMom2) September 5, 2018
It's amazing how calm everyone was when this lion jumped up. All they did was continue to record their videos. 🙃

— SH🖋✒️KE (@shakeS__Spear) September 5, 2018
Tags :
#TWITTER #LION #TOURISTS #TAIGAN SAFARI PARK #CRIMEA
next