BEGGAR DONATES HIS ALMS TO HELP FLOOD-AFFECTED KERALA; READ HIS INSPIRING STORY HERE
Home >
News Shots >
Inspiring
By

Behindwoods News Bureau

|

Sep 03, 2018 10:08 AM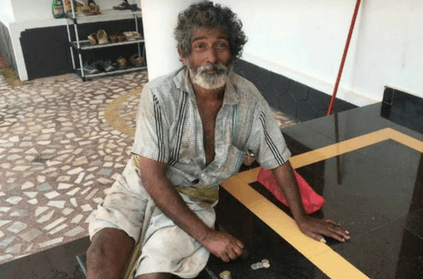 When the country was coming to terms with the magnitude of destruction caused by the Kerala floods, people and their acts of humanity warmed hearts across the nation. We're a nation of many languages, cultures and traditions, but the thing that binds us all is that we're humans. People have come out in large numbers to do their bit for Kerala.

With the waters starting to recede, people have been tasked with the work of bringing 'god's own country' back to normalcy. With the state suffering damages beyond expectations, every penny counts. We saw kids donating money from their piggybanks. Now comes another heart-warming story of a beggar.
Mohanan, a resident of Poonjar in the Kottayam district, is a beggar. Last week, the man walked for over 4 kilometres to meet the former municipal chairman of Erattupetta, TM Rasheed. Seeing the man, Rasheed thought that he had come for money, and offered him a Rs. 20 note. What happened next will put a smile on your face.

The man in torn clothes, sat on the steps of Rasheed's house, counted the money he received as alms. After counting, he asked Rasheed to donate this amount (₹94) to the CM's Relief Fund as he didn't know how to do it himself.

Amazed by the kind gesture, Rasheed took to Facebook to share Mohanan's story, and made sure that his donation reached the flood relief fund.
A man who has nothing permanent to call his own, shows up to help his state when it was needed. The level of selflessness portrayed by this humble man will go a long way. This is surely a story worth telling.

Tell us what you think in the comments below.
next