MAN FINDS 'SLIMY & RAW' HEART INSIDE KFC CHICKEN TAKEAWAY; DEMANDS EXPLANATION
Home >
News Shots >
World
By

Behindwoods News Bureau

|

Sep 19, 2018 02:29 PM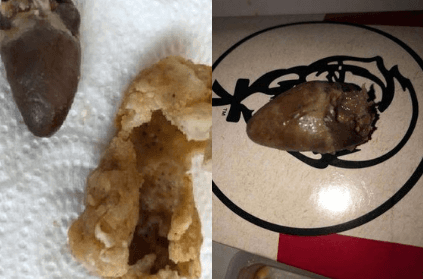 A man has demanded an explanation from fast-food chain KFC, after he claimed to have found a heart in his fried chicken takeaway.

According to a Daily Mail report, Timothy, who visited a KFC outlet in Melbourne ordered an 'Original Tenders Box'. When he started eating his meal, he claims to have found a 'raw' and 'slimy' chicken heart among other pieces of meat inside the box.

"It was crumbed and in the box, noticed that it wasn't right and the skin was peeling off so could see it was black underneath. When I took off the skin at first, I had no idea what it was," Timothy said

After his discovery, he took to Facebook to hit out at the restaurant and demanded an explanation for this incident. He wrote that when he returned to the restaurant, the staff at the chain confirmed that what he was served was a chicken heart.

"Uhh KFC can you explain to me why in the world I would be getting what looks like a chicken heart in my food? 'Is it common for you guys to do this or am I just lucky?" Timothy wrote on Facebook

The 21-year-old complained to the manager on duty, and was given a refund for his purchase. KFC Australia have apologised for the 'mistake' and said they had reminded their team to take extra care with food preparation.
Tags :
#FACEBOOK #KFC #CHICKEN #MELBOURNE #CHICKEN HEART
next