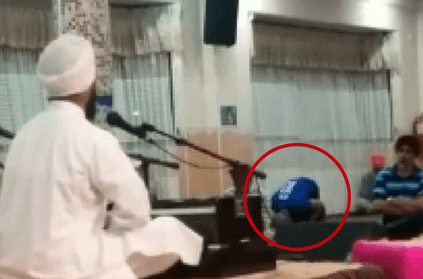 In these dark times of communal hatred and negativity, an instance of communal harmony has been wining hearts on the internet.

A viral video has been doing rounds on Facebook and Twitter, in which a Muslim man can be seen offering Namaz inside a Gurdwara in Malaysia. The man can been seen offering prayers while 'Gurbani' is being sung on the mic. The pleasant sight, recorded by onlookers, has struck the right chords among netizens.
The video was posted on Facebook by 'SikhInside', a group that shares information pertaining to Sikh people around the world. "A Muslim brother spotted doing Namaz in Gurdwara Sahib Bercham Ipoh. Probably he couldn't find a mosque and drop by Gurdwara to complete his Namaz," the group posted on Facebook
Since then, the video has garnered over 67,000 views, with many lauding the Sikh community for their act of inclusiveness.
What a wonderful picture! Salute to the Sikh priest who allows a Muslim man to do his Namaz in Gurudwara. This shd inspire people of all faiths to come together. https://t.co/JJz4b8g6Wm

— Rana Mitra (@RanaMitra15) August 25, 2018
This is how it should be, everywhere. A place of prayer should always be a place of prayer for all, no matter what faith or manner of praying.

That would be a world to aspire for.

— Debiprasad Mishra (@DebiprasaMishra) August 25, 2018
Gurudwara always welcomes everyone, no matter race or religion. God is one.

— simmi (@SimmiGirn) August 25, 2018
Loved the video 😍 such harmony is needed across the religions.

— Muhammad Mansoor (@alchemist_786) August 25, 2018
The Sikhs and the Muslim man carried on with their religious offerings, without disturbing the other. Internet users have claimed that the authorities inside the Gurdwara did not stop the man from praying inside. After finishing his prayers, the man can been seen leaving the premises.

Is this something for the world to learn from? Leave your thoughts in the comments section
next