WATCH | "COWS & BULLS WILL TALK IN TAMIL & SANSKRIT": NITHYANANDA'S BIZARRE CLAIM
Home >
News Shots >
Tamil Nadu
By

Behindwoods News Bureau

|

Sep 20, 2018 09:56 AM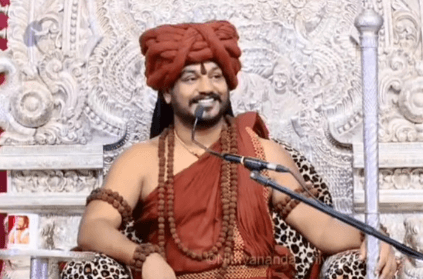 Self-styled godman Nithyananda recently made headlines in his attempt to prove Albert Einstein's theory wrong. The controversial godman, who was accused of sexual abuse by a former devotee, has come up with an outrageous and bizarre claim - that he can make cows,bulls, lions and monkeys speak in Tamil and Sanskrit.

How does he hope to give these animals the gift of speech and language? "Superconscious breakthrough," he claims.

And then comes the best part. In a video that has now gone viral, Nithyananda says that he will establish and prove all of this using science and research.

"I will demonstrate...monkeys and other few animals, which do not have many of the internal organs we all have, by initiating them into superconscious breakthrough, they will grow these organs, and I will establish it, prove it through a scientific, medical test and researches," says Nithyananda

He goes on to add how he is making all of these claims based on the casual testing of a software a while back. "I am declaring this after testing this software yesterday. Yesterday, actually, I casually tested this software. It was perfectly working," he said.

Then, Nithyananda hits you with the best of logics.

"I will develop a proper, phonetic, linguistic-capable vocal cord for monkeys. Phonetic, linguistic-capable vocal cord for lions and tigers. We are going to have bulls and cows which will talk to you very clearly, legitimately, in Sanskrit and Tamil," he is seen saying in the video.

What is interesting to note is the applause, drum beats and claps with which these bizarre claims are received by his followers. Enough talking, time to watch the man in action.
next