CRAZY: PILOT JUMPS OFF PLANE TO PERFORM KIKI CHALLENGE; WATCH THE VIDEO HERE
Home >
News Shots >
World
By

Behindwoods News Bureau

|

Aug 30, 2018 03:10 PM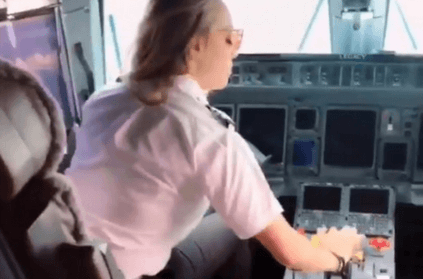 Seems like the viral dance trend is not stopping anytime soon!

When we thought that the world has had enough of the Kiki challenge, a new video has sent the internet into a tizzy. What initially involved cars only, has now evolved to other modes of transport including trains and bullock carts. Now the latest addition is an aircraft.

In a video that has gone viral on social media, a pilot and her flight attendant can be seen taking a break from their duty, to take the challenge. Pilot Alejandra Manriquez can be seen pushing one of the levers in the cockpit, before jumping out of the moving aircraft to dance to Drake's 'In My Feelings'.
Watch the video here
#kiki dance in pilots way 💃😅 pic.twitter.com/62zKlz58fx

— Aviationdaily✈️الطيران يوميآ (@Aviationdailyy) August 28, 2018
The video, which has garnered over 65,000 views, has received mixed reactions on Twitter. While some users did seem to enjoy the crazy stunt, others came down heavily on the two women, calling the stunt dangerous.
Brilliant, but they still hold their pilots license ?

— JP (@The_Jesusphreak) August 28, 2018
How cool are they?? 😍😃

— didi marques 🐼 (@didimarq) August 29, 2018
They should loose there job for this.

— Gerrit (@wildweasel34) August 28, 2018
To all the people saying they should be sacked the plane was being tugged and there would be no passengers in the plane. They most likely got permission to go this!

— Ryan Elliott (@RyanElliott1403) August 28, 2018
Tags :
#FLIGHT #PILOT #AIRCRAFT #KIKI CHALLENGE #VIRAL #TRENDING
next