THIS PHOTO OF A COP CONSOLING A CRYING BABY AS MOTHER TAKES EXAM IS MELTING EVERYONE'S HEARTS
Home >
News Shots >
India
By

Behindwoods News Bureau

|

Oct 01, 2018 11:37 AM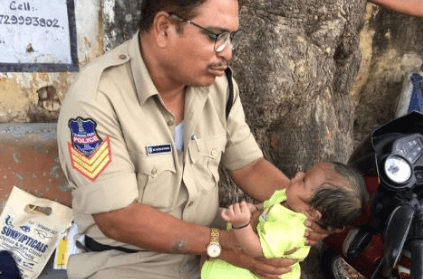 Being a mother is in itself a tough job. It becomes even trickier for a working mother. Balancing career and motherhood requires help from the outside.

When a woman appeared for her police recruitment exam in Mahbubnagar, Telangana, a police officer decided to take care of the woman's baby, while waiting outside the exam centre. The heart-warming photo has struck an emotional chord among netizens.

In a photo shared on Twitter by IPS officer Rema Rajeshwari, head constable officer Mujeeb-ur-Rehman of Moosapet police station can be seen consoling a wailing baby. The officer, who was on duty during the SCTPC exam, went out of his way to take care of the baby.
Head Constable Officer Mujeeb-ur-Rehman (of Moosapet PS) who was on duty for conducting SCTPC exam in Boys Junior College, Mahbubnagar
trying to console a crying baby, whose mother was writing exam inside the hall. #HumanFaceOfCops#Empathy pic.twitter.com/QudRZbAADu

— Rema Rajeshwari IPS (@rama_rajeswari) September 30, 2018
Needless to say, social media users were left speechless and lavished praises on the police officer
Salute the honest forces. While there are corrupt officials, its these kind of foot soldiers who step up for nation. They hardly meet ends with their salaries yet bring smiles on public. Face the brunt, stones, weather , pollution on roads, care towards life/death alike. salute

— reachaj (@reachaj1) September 30, 2018
So sweet. That's humanity and few police man also have it

— Ravindra kumar (@smartchap_no1) September 30, 2018
This should be the real face of the Indian Police 👏🏼👏🏼👏🏼

— Swaroop Charmling (@GurkhaSwaroop) September 30, 2018
Humanity is still alive. Hats of to the police officer.

— Mohiuddin (@mohiuddin3k) September 30, 2018
Man with a golden heart🙏Look at their expressions 😊

— Shashi Menon (@cherukote) September 30, 2018
next