THIS COUPLE'S FAT-TO-FIT TRANSFORMATION IS ALL THE INSPIRATION YOU NEED TODAY
Home >
News Shots >
Inspiring
By

Behindwoods News Bureau

|

Oct 05, 2018 06:52 PM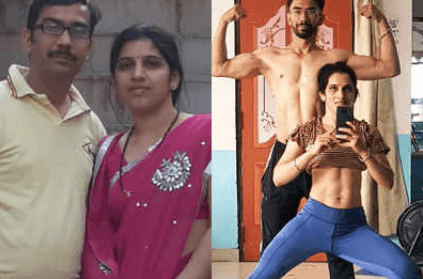 Most of us desire to be fit and healthy. But the journey towards that goal is not an easy one. It takes sacrifice, pain, sweat, and most importantly passion and dedication.

This Marwari couple did just that. 40-year-old Aditya Sharma and his wife Gayatri weighed 72 kgs and 60 kgs respectively, when they started their journey in fitness. The couple dedicated the next three months to vigourous workout, training, and nutritious food.

While they were mocked for not spending time with family, their transformation has left everyone astounded. Describing his initial struggle, Aditya said, "Initially it was very hard to convince my family members as every mother wants to feed her son good food and can't see him starving or refraining from having delicacies."

While Sharma was always conscious of his body image, it was when his shirts stopped fitting him properly that he started yearning for a fitter physique even more. The dedication and passion towards their goal finally paid off.

Aditya was supported by his wife, who also suppressed her sweet cravings, and started weight training under his guidance. Within a few months time, Aditya lost 20 kgs, and his body fat percentage dropped to 8%. Gayatri lost a whopping 11 kgs in just 3 months.

Both Aditya and Gayatri are now nutritional consultants and provide online training to their clients.
Tags :
#FACEBOOK #FAT-TO-FIT #TRANSFORMATION #HEALTH AND FITNESS #TRENDING
next