LIVING FOR 12 YRS IN PUBLIC TOILET, THIS KHO-KHO CHAMPION HAS NOW WON A STATE AWARD
Home >
News Shots >
Inspiring
By

Behindwoods News Bureau

|

Oct 04, 2018 05:06 PM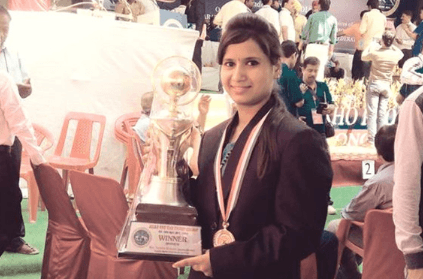 Some stories of struggle will leave you inspired, while other will leave you completely dumb-founded. Such is the story of Juhi Jha, a Kho-Kho player from Indore, Madhya Pradesh.

Juhi's father, Subodh Kumar Jha, was a former worker at a public toilet in Indore. With an income of Rs. 7,000, the family of five had to live in the quarters allotted to him. The quarters were located in the public toilet building. Here Juhi spent 12 precious years of her life.

Juhi was in class 4 when she started training as a Kho-Kho player. Despite all the financial burden, she continued with both her training and studies.

Speaking to Dainik Jagran, she said, "I have lived here (the public toilet quarters) for about 12 years. My father earned about Rs 6000-7000 which supported our home. The conditions were bad, but I never gave up on playing. Three years ago, he lost the job and with it, the house too."

Juhi's hard work and passion has finally paid off. This year, the Madhya Pradesh department of sports and youth welfare will be awarding the Vikram Award to 10 players, including Juhi.

The living conditions of Juhi's family have improved in the last few years. "My mother, Rani has taken up work as a tailor, and since I've got a job in a school, it adds to our family income. I am happy that my government job will help my family further. I am currently in the final year of B.Com and wish to study ahead further," she said.
next