BELIEVE IT OR NOT! MAN FINED FOR 'OVER SPEEDING' BICYCLE & RIDING WITHOUT HELMET
Home >
News Shots >
India
By

Behindwoods News Bureau

|

Oct 07, 2018 09:50 AM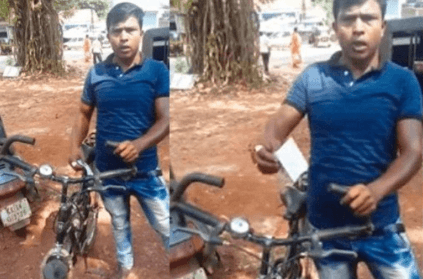 Riding a bicycle can be fun. The best thing about it is that you can ride it, without a helmet and license. But apparently you need a license! At least according to the Kerala police. Not just that, you aren't even allowed to over speed on road with a bicycle.

Kasim, an Uttar Pradesh resident living in Kerala was left amazed when he was pulled up by the highway police in Kumbala. According to a report in India Times, Kasim, a migrant worker, was intercepted by police and asked to pay a fine for 'over speeding' his bicycle. He was asked to pay a fine of Rs. 2,000.

When Kasim said that he didn't have that much money, the cops issued him a challan of Rs. 500. The cops also allegedly flattened his cycle tyres. What is shocking is that the vehicle registration number on the challan is that of a scooter owned by a woman. Click here to see the challan.

The incident came to light after Kasim posted a video on social media, narrating the incident. After facing flak, The District Police Chief has ordered a probe into the incident. Regional media reports have claimed that the Station-In-Charge has been found guilty and is likely to face action.
*Report & Image Courtesy: India Times*
next