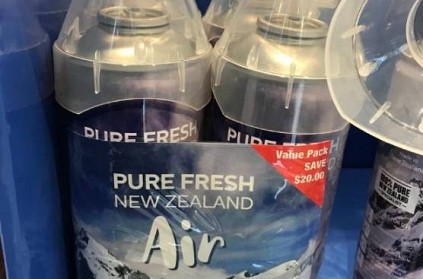 We have all come across various bizarre items on the market. Here comes a product so strange, you will definitely be shocked. A young journalist named Damian Christie saw packaged air being sold at the Auckland International Airport.
That's right! Air packaged in bottles with the name, "Pure Fresh New Zealand Air" are being sold. Reportedly, these little cans of air are harvested above the snow line among New Zealand's famous Southern Alps.
These bottles of 'fresh' air are being sold at a rate of approximately Rs 7,300 for four bottles. At the moment, the bottles are sold with a discount of Rs 1,500. Each bottle comes with a specially designed cap to breathe through the nose and mouth along with enough air for 130 to 140 deep breaths.
next