'GOODBYE CAP': CHRIS EVANS IS DONE PLAYING CAPTAIN AMERICA; FANS GET EMOTIONAL
Home >
News Shots >
World
By

Behindwoods News Bureau

|

Oct 05, 2018 02:46 PM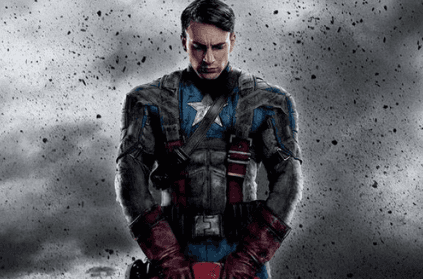 Marvel Cinematic Universe (MCU) fans are having a hard day today, as the MCU's 'first Avenger' has bid adieu.

After playing the Marvel superhero for all these years, Chris Evans has hung up Captain America's shield for good. The star took to Twitter to announced the news to fans and well wishers. He broke the news after he completed his schedule in the upcoming Avengers 4.

Taking to Twitter, Chris wrote that he was honoured to play the character for over 8 years. He also thanked all his fans and the crew members for all the memories.
Officially wrapped on Avengers 4. It was an emotional day to say the least. Playing this role over the last 8 years has been an honor. To everyone in front of the camera, behind the camera, and in the audience, thank you for the memories! Eternally grateful.

— Chris Evans (@ChrisEvans) October 4, 2018
Minutes after he posted the tweet, his fans got emotional and teary-eyed. They thanked Evans for bringing life to his character and gave a fitting tribute to the superhero.
#ThankYouChrisEvans for the honour to grow up with you, your potrayal of the most selfless Hero has thought me a lot, it's been an amazing 8 years.. Wish we could do this all over again.. But like all good things, this must come to an end also.. 😭😿 #ICanDoThisAllDay pic.twitter.com/1KsoSlA6fw

— Wakandan_Sauce (@D_BossZena) October 5, 2018
Will miss you Cap pic.twitter.com/CkxoyfCL1R

— Karan (@baddyz07) October 5, 2018
I can't even...😢😢 I'm going to miss Steve Rogers so much, I never warmed to him in the comic books, but the way you portrayed him in film was beyond awesome. Turned out to be my favourite Avenger. #ThankYouChrisEvans pic.twitter.com/26dON59GSj

— Julie Gordon (@Evenks) October 5, 2018
What a run you had brother. Congrats on breathing life into such an iconic character. Keep on keepin' on 🤙🏾 https://t.co/yg38AcXNUi

— Dwayne Johnson (@TheRock) October 4, 2018
I'm not crying. I'm weeping. There's a difference.

— Ryan Reynolds (@VancityReynolds) October 4, 2018
Thanks Chris, you've been amazing as Captain America really enjoyed all the movies thank you for the amazing memories I wish you all the best in your future projects. The Marvel franchise won't be the same without you, you'll be missed cap. pic.twitter.com/AN5mdTu5wJ

— Kevin Wright (@iamkev_1981) October 5, 2018
I am literally crying right now . I hate goodbyes. It's still like a dream. I still can't believe it. just thank you for being our inspiration for the whole time. #ThankYouChrisEvans pic.twitter.com/6mGPlfBsIR

— 미꼬 uwu (@misekohun94s) October 5, 2018
Tags :
#TWITTER #CAPTAIN AMERICA #CHRIS EVANS #MARVEL CINEMATIC UNIVERSE #AVENGERS 4
next