WATCH VIDEO | INDIAN JOURNALIST PROPOSES TO COLOMBIAN CHESS PLAYER IN THE MIDDLE OF THE TOURNAMENT
Home >
News Shots >
Sports
By

Behindwoods News Bureau

|

Sep 26, 2018 05:41 PM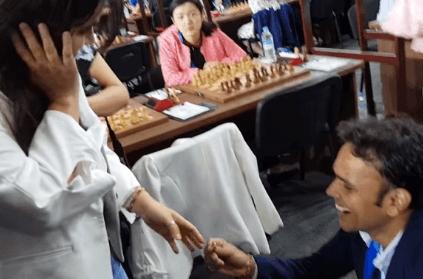 It is for a fact that love knows no language! And that is exactly what happened when an Indian journalist, fluent in Hindi, proposed to a Colombian, fluent in Spanish, in the middle of a chess tournament.

Indian chess reporter Niklesh Jain asked Colombian chess star WIM Angela Lopez to marry him, just before her match in the Chess Olympiad 2018. Minutes before her match, Niklesh reached her with the ring, went down on his knees, and popped the question.

On being asked about his plan to propose her in the middle of a tournament, Niklesh said, "Actually I am chess player and she is too. There were a few places where i could have proposed her, but then I thought what better could it be than the Chess Olympiads. There are 189 countries who are playing here and for us this is our temple."
Romance at the chessboard! 😍

Indian chess journalist Niklesh Jain 🇮🇳 proposed to his Colombian girlfriend, WGM Angela Franco 🇨🇴, before round two! She said yes! 💍BatumiChess2018

Photo: @photochess pic.twitter.com/gvNMjkQ7Ul

— Chess.com (@chesscom) September 25, 2018
The proposal was planned and coordinated with Angela's sister, who is also player in the Colombian team. The whole Chess Olympiad turned merry with this event. The surprising thing is that Niklesh doesn't know Spanish, and Angela doesn't know Hindi. Both of them are also not fluent in English.

"The thing is that there is a language problem, she can't speak English very well, neither can I. So, we had to use our phones to translate and to communicate," said Niklesh.

Watch the lovely proposal here
Tags :
#TWITTER #CHESS OLYMPIAD #PROPOSAL #LOVE
next