FIERCE FIGHT BETWEEN COBRA & DOG TO SAVE PUPPIES; GUESS WHO WON?
Home >
News Shots >
India
By

Behindwoods News Bureau

|

Sep 20, 2018 02:15 PM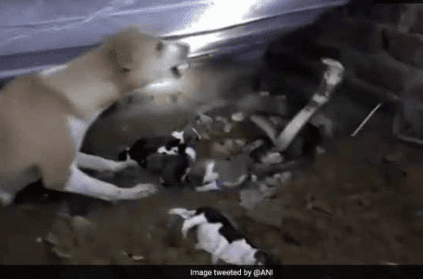 Residents in the Bhadrak area of Odisha woke up to ferocious barking and hissing sounds on Tuesday night. The dramatic sounds came from the scene of an ongoing fight between a cobra and a dog, after the reptile bit two of her puppies.

The dog, along with her 7 puppies had taken shelter under the staircase of a house in the area when a cobra slithered in and bit two of her puppies. The cobra bite ended up killing the two pups. What followed next was a fierce battle to save the remaining pups.

In a set of images shared by ANI, the dog can be seen ferociously barking and then pouncing on the cobra to save her remaining pups. To cobra too was in attack mode, inching closer to the dog.
Dramatic visuals of a Cobra attacking a dog's puppies caught on tape in Odisha's Bhadrak. Unfortunately, forest officials could not reach on time. 4 puppies succumbed to snake bites, 1 survived. pic.twitter.com/7ZmWzRFDOp

— ANI (@ANI) September 20, 2018
While the number of puppies that succumbed to the cobra bite is not clear, ANI claims that one of the pups that was bitten has survived. After witnessing the standoff, the men pulled the snake out of the fight using a metal rod, and held it up among a curious crowd.

'The snake was already aggressive and in an attacking mode. If we tried to save the puppies it would have bitten us too. So we didn't risk it,' the person filming the attack said.
next