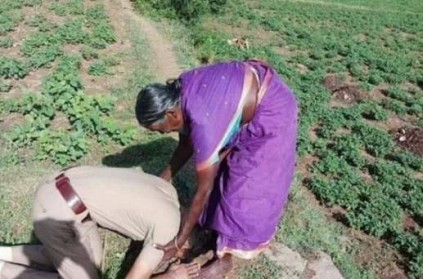 Gratitude is a virtue that not many possess. We always end up forgetting those who helped us in our crucial moments, be it our parents, friends or teachers.
A man from Karnataka, however, was not able to forget his gratitude for his mother. The man, a sub-inspector, was raised by his single mother without whom he probably could not have become a cop. A photo of him seeking blessings from his mother's feet was tweeted by IPS Bhaskar Rao.
Reportedly, the SI's mother was unable to attend his passing out parade. So he decided to pay her a visit and seek her blessings. Bhaskar Rao tweeted the photo with a caption, "A grateful son(Police Sub-inspector) in Reverence and Gratitude to his Single Mother who could not attend his Passing out Parade....Karnataka(sic)"
The photo immediately went viral on social media. Netizens couldn't help but laud the policeman's immense dedication and love towards his mother.
A grateful son(Police Sub-inspector) in Reverence and Gratitude to his Single Mother who could not attend his Passing out Parade....Karnataka pic.twitter.com/VRIKSekgxb

— Bhaskar Rao IPS (@deepolice12) September 23, 2018
next