WATCH VIDEO | MAN BRUTALLY MURDERED IN BROAD DAYLIGHT WHILE POLICE VAN DRIVES BY
Home >
News Shots >
India
By

Behindwoods News Bureau

|

Sep 26, 2018 04:47 PM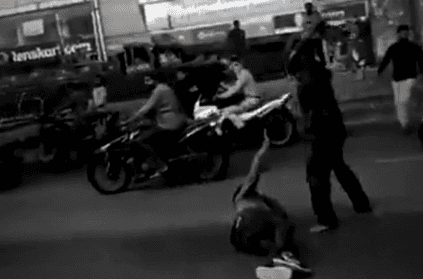 In a horrific incident being reported from Hyderabad, a man was brutally murdered by two men in the middle of a busy road in the city. The man was hacked to death using an axe, while dozens of people watched. What is even more shocking is the fact that a police van passed by the crime scene and did not even bother to stop.

The horrific murder took place at the Attapur Airport Expressway, one of the busiest junctions in the city of Hyderabad. In a video that has been doing rounds online, the helpless man can be seen being hacked repeatedly by the axe-wielding assailants in full public view.

According to police, the incident is reportedly a case of revenge. The victim, identified as Ramesh, was being chased by two men. Eyewitnesses from the scene say that there were at least 3 policemen on spot, but they didn't do much.

What is extremely appalling is the fact that a police van passes the crime spot without stopping, even with dozens of people gathered there. "Two policemen went to get their batons. By the time they returned, it was too late. Both the accused have been arrested,'' Prakash Reddy, a police officer, told NDTV.

Bikers, autorickshaws and some pedestrians paused for a moment before going about their business. While some onlookers did try to stop the attackers, most were busy recording the brutality on their mobiles.

*Video might be disturbing to some people*
next