INDIA'S NUMBER 1 PROFESSIONAL LIGHTWEIGHT BOXER STILL SELLS TEA TO EARN A LIVELIHOOD
Home >
News Shots >
Inspiring
By

Behindwoods News Bureau

|

Oct 09, 2018 08:14 PM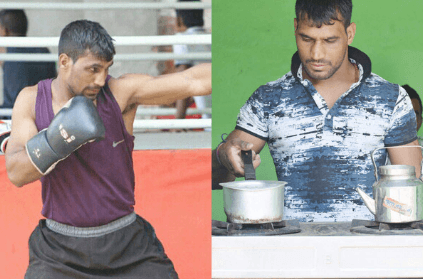 Olympic bronze medalist Vijender Singh is a role model for many amateur boxers and those who dream of professional boxing glory.

Just a few minutes away from Vijender's house, there is another boxing star in the making - Rajesh Kumar Kasana. While Rajesh has already made it in the professional boxing circuit, he still struggles to make ends meet on a personal level. His only source of income is a tea stall that he runs with his brother.

Rajesh's daily routine begins at 5 AM in the morning. He runs the tea stall till around 1 PM, after which his brother takes over. After having lunch and rest, he heads for boxing practice around 6 in the evening. While he doesn't mind the hectic schedule, Rajesh is still chasing his father's dream.

"My father wanted me to become a boxer. I want to fulfill his dream at any cost," Rajesh told Times of India in an exclusive interview.

Rajesh fought his first professional bout in 2015, where he defeated fellow boxer Manpreet Singh. Till today, he has fought 10 bouts, winning 9, and 1 ending as a draw. Rajesh still remains unbeaten in the ring. He is in fact India's number 1 lightweight professional boxer. He ranks 221st in the World Professional Boxing Rankings in his weight category.

But outside the ring, Rajesh's life continues to be a constant struggle. He lost his father when he was young. He also lost his sister in 2013, when she was diagnosed with cancer. When things became difficult, he opened a tea stall to support his family.

Rajesh wishes to meet Vijender Singh and seek his help. "He (Vijender) is an inspiration to many. I was never in the amateur boxing circuit but I am a professional boxer. He is a veteran and my hero. I want to become like him. Whenever I meet him, I will ask him to show me the way to become a renowned professional boxer like him," the boxer said.

*Report & Image: Times of India*
Tags :
#TWITTER #BOXING #VIJENDER SINGH #RAJESH KUMAR KASANA #LIGHTWEIGHT BOXER #INSPIRATION
next