MAN PUTS HIS GIRLFRIEND UP FOR SALE ON EBAY; HER PRICE REACHES RS 67,72,131
Home >
News Shots >
World
By

Behindwoods News Bureau

|

Oct 07, 2018 11:36 AM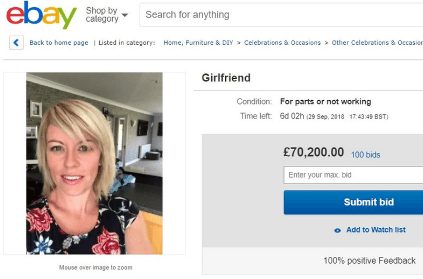 Websites like eBay enable us to sell our unwanted stuff. You make a little bit of money, a stranger gets the second hand product he wants.

But they can also be used for having some fun, but at the expense of other people. However, for a 34-year-old Dale Leeks from UK, the prank backfired after he put his own girlfriend up for sale on eBay. The advertisement on the website compared his girlfriend to an old car.

The man warned potential buyers that she made a 'constant whining noise' and she has 'no serious damage but you can see she's been used'. He listed the bodywork as 'fairly tidy but close up shows signs of wear', adding that 'the rear ends leaks a bit but nothing that can't be plugged'.

Apparently, Dale was upset over the fact this his girlfriend, Kelly Greaves, had whipped him across his butt in a riding shop. What was meant to be as a prank and act of revenge, turned serious after the man started receiving messages from potential buyers.

Initially, the ad received only a few bids from Dale's mates, but within 24 hours it had been viewed more than 8,000 times and more than 100 bids had racked up, with a highest bid of £70,200 (Rs. 67,72,131).

The listing was soon removed by the website as sale of 'human body parts and remains' are not allowed on the site. While social media users deemed the prank as offensive, Dale and Kelly took great joy in the entire thing and even had a great laugh.

"After I put it on eBay I just kept laughing about it and she asked what I was laughing about. I told her I'd put her up for sale on eBay and was like "gotcha". At first, she thought no one would see it and thought it didn't matter," said Dale.

"But we went out for dinner that evening and I was being bombarded by messages from all over Europe, and places as far away as America and Australia," added Dale.
Tags :
#TWITTER #PRANK #EBAY #SALE #VIRAL #TRENDING
next