GIRLFRIEND CREATES 22-RULE CONTRACT FOR BOYFRIEND TO FOLLOW; INTERNET GOES 'YIKES'
Home >
News Shots >
World
By

Behindwoods News Bureau

|

Oct 07, 2018 01:18 PM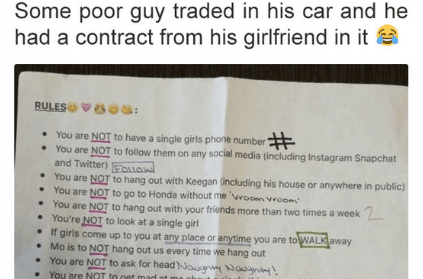 When two people are in a serious relationship, there are some common unspoken rules they both follow. While they are not hardbound rules, written on paper, it is expected that both partners abide by them to have a healthy and cordial relationship.

But it seems like a girlfriend didn't want any sort of confusion, and had the rules of her relationship written down. An image of 22 relationship 'rules' written by the girlfriend has gone viral on social media. A Twitter used @kkeyes96 shared the image on Twitter. However, the user later deleted the tweet when people though that the rules were written by his girlfriend.

BoredPanda shared an image of the entire list of rules. Click here to see
These are some of the rules she mentioned:
- You are NOT to have a single girls phone number
- You are NOT to follow them on any social media (including Instagram, Snapchat, and Twitter)
- You are NOT to hang out with Keegan (including his house or anywhere in public)
- You are NOT to go to Honda without me
- You are NOT to hang out with your friends more than two times a week
- You are NOT to look at a single girl
- If girls come up to you at any place or anytime you are to WALK away
As soon as the news hit social media, users couldn't help but feel bad for the boyfriend. Some of them thought that this is too controlling and the woman needs to chill.
Tags :
#TWITTER #GIRLFRIEND #RULES #VIRAL #TRENDING
next