WATCH | THIS VIDEO OF A MAN BEING CHASED BY A CHICKEN IS TOO HILARIOUS
Home >
News Shots >
World
By

Behindwoods News Bureau

|

Oct 15, 2018 11:44 AM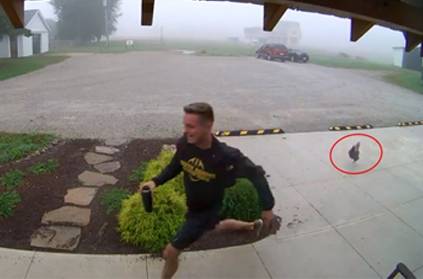 'Chickening out' is a phrase used to refer to someone who is frightened. But have you ever wondered if chickens could be scary? Chickens are probably the most underrated predators in the world. They are domesticated by people, and there is no immediate harm from them.

But a student in Indiana, United States, was chased by a chicken, so bad, that it looked like he was running for his life. A video of 22-year-old student, Boaz Marbach, being chased by a chicken is going viral on the internet. And the funniest part of all is how Marbach appears to be terrified of the bird.

According to reports, the bird was let out after being held in a cage. Whatever the reason, the video is extremely hilarious and people on social media cannot get over it.

Watch the video here
We have a chicken at work and it loves attacking me when I let it out pic.twitter.com/IbhS0M1loY

— Boaz or Bozy (@BroazM) October 8, 2018
October 10, 2018
I love how the background's all foggy whilst the killer chicken chases it's prey.

— rnzy (@renztampus) October 10, 2018
Owner of 6 chickens. Can confirm that all of them (especially Hennifer Lopez) can outrun me.

— Morgan Donnary (@morgan_donnary) October 9, 2018
Tags :
#TWITTER #CHICKEN #CHASE #VIRAL VIDEOS #TRENDING
next