'HIPPOPOTOMONSTROSESQUIPEDALIOPHOBIA': SHASHI THAROOR WARNS OF FEAR OF LONG WORDS WITH A 35-LETTER WORD
Home >
News Shots >
India
By

Behindwoods News Bureau

|

Oct 11, 2018 02:18 PM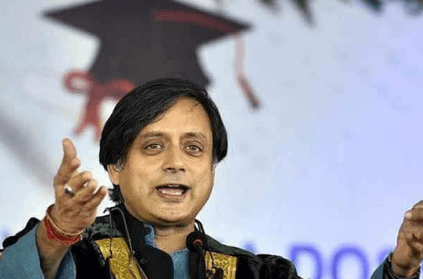 Looks like Shashi Tharoor really wants us to walk around with a dictionary all the time. From his "exasperating farrago of distortions" to yesterday's tweet on "Floccinaucinihilipilification", people have been left perplexed.

Tharoor in a tweet yesterday used a 29-letter word to describe his new book on Prime Minister Narendra Modi. To no surprise, people started mocking the Congress MP for his use of elaborate language, too difficult for them to understand.

Shashi Tharoor later put up an audio clip, helping people on how to pronounce the word. And while it had Twitter in a panic with people trying to pronounce these words, it also raised the question--why are people always so skeptical of Tharoor's words.
Apologies for doing this to the young! https://t.co/QIoZnY9CED

— Shashi Tharoor (@ShashiTharoor) October 10, 2018
Tharoor, who is known for his command over the language decided to address people's fear of long words. But then he did it in his own style. Brace yourselves!
I'm sorry if one of my tweets y'day gave rise to an epidemic of hippopotomonstrosesquipedaliophobia!
[Don't bother looking it up: it's just a word describing a fear of long words].
But #TheParadoxicalPrimeMinister contains no words longer than Paradoxical! https://t.co/8h0zkcHnb2

— Shashi Tharoor (@ShashiTharoor) October 11, 2018
Now, that's a very long word to describe the fear of long words! And as expected, Twitter lost it once again!
Inhaling such words,
I might suffer from pneumonoultramicroscopicsilicovolcanoconiosis

— Anushree Arun (@anushreearun13) October 11, 2018
As I think, you are going through pseudopseudohypoparathyroidism. To get cured, you must go for psychophysicotherapeutics. It is the only solution of your problem, dear sir!..

— shantesh kumar singh (@shanteshjnu) October 11, 2018
Being a sesquipedalian, Mr. Tharoor is quite ebullient in gasconading about his habit of circumlocution. Little does he show any perspicaciousness or excogitate before assuming rest of the people are saxicolous. This is idiosyncratic with his personality of being anomalistic! 😁

— Jayesh Gopinathan (@jayeshgnath) October 11, 2018
After the tweet most of the Indian Right now pic.twitter.com/JjAkJuhxhw

— मुक्त आत्मान (@bhanderi_raj) October 11, 2018
next