ZOOKEEPER'S 9-YR-OLD DAUGHTER FINDS AN UNUSUAL BEST FRIEND - A TIGER CUB
Home >
News Shots >
World
By

Behindwoods News Bureau

|

Oct 12, 2018 02:47 PM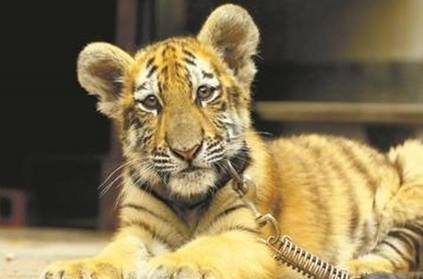 The story of a 9-year-old girl in Southwest China is going viral on social media, thanks to her unusual and inseparable best friend - a tiger cub.

Sun Xiaojing, the daughter of a zookeeper, started playing with the tiger cub when it was born three months ago. According to a report in the South China Morning Post, the two have become "inseparable" now.

"She has been feeding the cub bottled milk, bathing and playing with it," says Sun's father, who is a zookeeper at Donghu Zoo in Quanzhou, a city in Fujian province. The girl has even named the cub Huniu, which means "tiger girl" in Chinese.

"My daughter's classmates think tigers are scary but Huniu is her friend. Huniu is really playful and likes to be scratched on the belly. She runs to my daughter the moment she comes back from school," said the girl's father.

Photos of the two friends playing together have gone viral all over social media platforms in China. While people love the adorable friendship, some have also pointed out that tigers should not be treated like pets and are legally protected animals. Click here to see the friends playing.

According to a report, the cub will be put in a cage next month, when its teeth start to harden, making it a potential threat to visitors.
Tags :
#TWITTER #BUZZ #TIGER CUB #FRIENDS #VIRAL #TRENDING #CHINA
next