THIS WEBSITE WILL ANONYMOUSLY SEND ELEPHANT & GORILLA POOP TO PEOPLE YOU DON'T LIKE
Home >
News Shots >
World
By

Behindwoods News Bureau

|

Oct 11, 2018 03:53 PM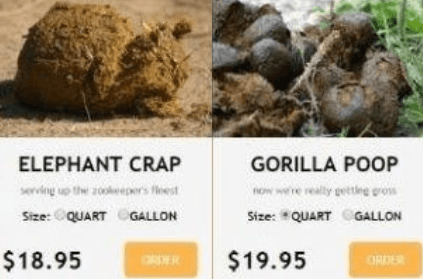 Have you ever disliked someone so much that you'd want to send them poop as a gift? What if we told you it's actually possible.

A website called Poopsenders.com will do this job for you and that too anonymously. This means that you could send a bag full of stinky poop to your friends, enemy, or even an ex, and they would never know what hit them.

'We will ship your friend, or enemy, a healthy heap of some of the nastiest, stinkiest, fresh poop packages that anyone has ever seen. We will NOT let them know who sent it!' reads their website.

What is even more interesting is that you have four options to choose from: Cow Dung, Elephant Crap, Gorilla Poop. But if aren't satisfied with these three and want to mix and match, you have the fourth option: A combo pack of all the other three.

The package is actually accompanied with a business card that reads: "You've been pooped on. Want to know by whom?

As the person flips the card over to find out who sent the stinking package, the message on the other side reads: "We'll never tell you".

And if you can't decide who you want to send the poop to, the website also has some ideas on who you can or should send it to. And if the reviews on their website are anything to go by, they're good at executing the job.

Just in case you want to send poop to someone, click here
Tags :
#TWITTER #BUZZ #ELEPHANT POOP #GORILLA POOP #VIRAL #TRENDING #POOPSENDERS
next