WATCH | DOG INVADES FOOTBALL PITCH DURING MATCH; ASKS FOR BELLY RUBS FROM GOALKEEPER
Home >
News Shots >
World
By

Behindwoods News Bureau

|

Oct 11, 2018 02:52 PM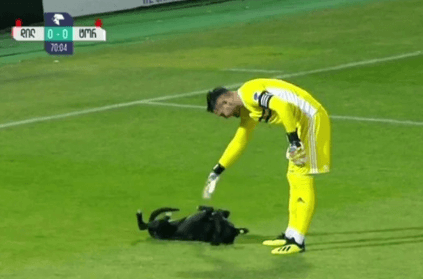 In a video that has been doing rounds on the internet, a playful dog invaded a football pitch during the match and was also willing to roll over for a nice belly rub from the goalkeeper.

In the middle of a National Football League match in Georgia, the energetic black Labrador suddenly jumped on to the grass, leaving all players distracted as it ran around the pitch. While it is unclear as to how to dog got on the pitch or where it came from, it sure seemed to have had a great time.

The pooch ran happily around the pitch for 3 minutes, wagging its tail, looking for someone to play with. It first ran towards the referee, who probably thought of giving the dog a red card. He then decided to let it go and have his moment.

One of the team's goalkeeper managed to gain the dog's trust by reaching out to pat it. And the friendly pup obliged by rolling on to its back, ready for a belly rub.

Two medics ran in, trying to remove the dog from the pitch. They caught hold of the invader by its front legs, but the dog was not willing to give up that easily, and managed to escape. Another player got the dog's attention and skipped along the side of the pitch with the dog following happily, jumping up at the footballer as if they were playing a game.

The dog was eventually directed off the pitch towards the stands, leaving the football players to get back to their game.

Watch the adorable pup here
Tags :
#TWITTER #FOOTBALL #DOG #VIRAL VIDEOS #TRENDING #GEORGIA
next