MAN FINDS HIS LOST DOG IN STREET AFTER 3 YEARS; WATCH THEIR EMOTIONAL REUNION
Home >
News Shots >
World
By

Behindwoods News Bureau

|

Oct 15, 2018 10:13 AM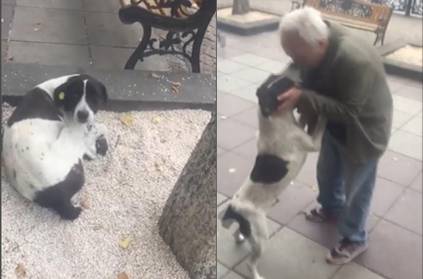 Chances of finding a lost pet are mostly slim, especially for a pet that has been missing for three long years. But sometimes, miracles do happen.

62-year-old Giorgi Bereziani lost his dog in 2015. He combed through the streets and the neigbourhood, and even put up ads appealing for help. After several false leads, he got a telephone call earlier this month. The caller claimed to have spotted the dog wandering on the streets.

Jiorgi rushed to the spot and found his pet dog, Jorge, curled up under a tree. He decided to film the emotional reunion. As the owner calls his name, the dog responds to the call and starts whelping. Sniffing his owner, Jorge throws his front paws at him and begins to whimper, as if in disbelief.

In the video, his owner can be heard saying, "Jorge, is that you?' Jorg Jorge, it's you! Oh, dear boy, how are you, boy?" Both the owner and his pet dog were overjoyed to be reunited and embraced lovingly on the streets.

A video of the tearful reunion was posted on social media and has now gone viral. People can't stop fussing over scenes of the dog jumping on his owner with joy.

Watch the video here
Tags :
#TWITTER #EMOTIONAL REUNION #VIRAL VIDEOS #TRENDING #LOST AND FOUND
next