INDIA SHINES BRIGHTEST ON GOOGLE'S STUNNING INTERACTIVE MAP ON #METOO, BUT FOR ALL THE WRONG REASONS
Home >
News Shots >
Technology
By

Behindwoods News Bureau

|

Oct 16, 2018 10:34 AM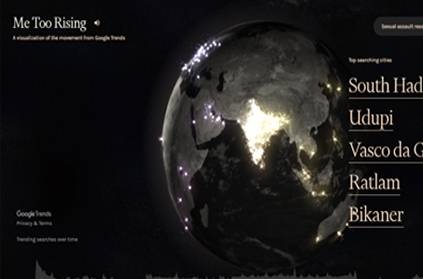 'India Shining', the government's ambitious slogan finally seems to be happening, but for all the wrong reasons.

As the #MeToo movement continues to sprout all over the world, individuals and organisations are finally gathering the courage to come out and tell their harrowing tales. In India, the movement has gathered pace over the past couple of weeks with high-profile names cropping up.

Now, a stunning new Google interlazy map, which has been illuminating the spread of the #MeToo movement, has come up. 'Me Too Rising: A visualization of the movement from Google Trends' offers a 360 degree view of how the campaign against sexual assault and abuse of power gained momentum around the entire planet, tracking search and social media trends starting from October 2017 to the present day.

One look at this interlazy map, and you'll see how India is shining the brightest. India can be seen lit up brighter than any other country, albeit for all the wrong reasons. On navigating the spinning globe in Google's map, data points light up to represent the locations where most people are searching for 'Me Too' at any given time. Google then throws up the link to the most read stories on #MeToo providing context for the reason of the term trending on that particular day, in that particular.

The map is also a resource for sexual assault survivors and agencies dealing with the same, with discussion points, articles, and even local helpline numbers to report instances of sexual violence.

Click here to check out the map
next