MAN USES ALL HIS SAVINGS TO BUILD BRIDGE IN VILLAGE SO THAT CHILDREN CAN GO TO SCHOOL
Home >
News Shots >
Inspiring
By

Behindwoods News Bureau

|

Oct 12, 2018 04:04 PM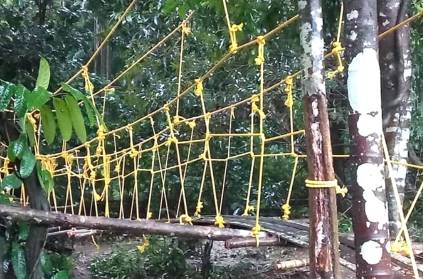 Belthangady, a tiny panchayat town in Karnataka, consists of many villages, of which one is Shishila. In this village, Balakrishna Shishila, a 32-year-old man, runs a small shop.

Often Balakrishna would hear stories of children dropping out of schools. Not due to financial or other constraints, but due to lack of connectivity. The reason was the collapse of a bridge, connecting the village to the school. Seeing the trouble, Balakrishna decided to take matters into his own hands, and construct a bridge.

According to a report in The News Minute, Balakrishna decided to use all of his savings to fund the initiative.

"[The] lives of over 15 families depend on the bridge. Earlier, areca stumps and other temporary structures were laid as a bridge. But the heavy rains that lashed region destroyed the bridge. The village was stranded during the rains, and all pleas to panchayat officials to have a permanent bridge constructed fell on deaf ears," he told The News Minute.

With the help of 10 other individuals, Balakrishna started constructing the bridge in mid-July. He used ideas from his childhood, when he used to build swings using wood and ropes. His team collected ropes, metal, and bark from local trees to build the bridge. The entire endeavour cost Balakrishna around Rs 30,000 from his savings, something that he spent despite having a family of five to look after.

The 35-metre long bridge has come as a boon to the villagers, who earlier, had to wade through water to get to the other side of the village. Balakrishna has received wide support from the villagers for his noble gesture.

Speaking to TNM about this, Krishna Prakash, a resident of Shishila, said, "We were worried about the lack of connectivity, especially in the case of medical emergencies. Now, we can move about thanks to this bridge."
Tags :
#KARNATAKA #BALAKRISHNA SHISHILA #BRIDGE #SCHOOL #VIRAL #INSPIRING
next