BROTHER HELPS HIS LITTLE SISTER SCORE A BASKET; WATCH THE ADORABLE VIDEO HERE
Home >
News Shots >
World
By

Behindwoods News Bureau

|

Oct 23, 2018 07:10 PM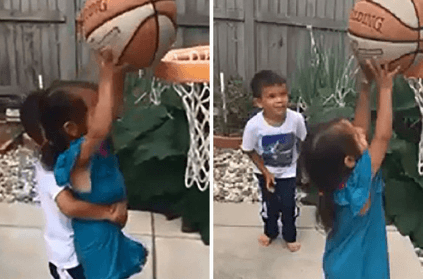 An adorable clip that has now gone viral on the internet shows a brother comforting his upset sister as she was not able to score a basket. Seeing his sister upset, the brother not only consoles and kisses the crying sister, but also helps her to score a basket. The video was shot in California, and was uploaded on Instagram by the children's mother.

In the clip, the little girl is seen playing basketball, while her brother watches from a few feet away. She tries hard to score a basket, but is unable to reach the hoop. As the ball falls on the ground, the girl bursts into tears. And in comes her brother to the rescue!

He first hugs his sister, and kisses her on her cheek and nose, in an attempt to console her. He then shares a few words to motivate her. "It's OK, you're strong!" he tells his sister.

He then places the basketball on her hands and lifts her into the air. With a little help, she finally manages to score a point.
Scoring the basket, the little girl's face is lit up with a bright smile, and her brother kisses her again on her cheek. The brother-sister duo have won over the internet with their love and compassion towards each other.
Tags :
#INSTAGRAM #BASKETBALL #BROTHER & SISTER #VIRAL VIDEOS #TRENDING
next