THIS WOMAN PLAYING SHANKAR MAHADEVAN'S SONG 'BREATHLESS' ON VEENA WILL BLOW YOU AWAY
Home >
News Shots >
India
By

Behindwoods News Bureau

|

Oct 21, 2018 02:22 PM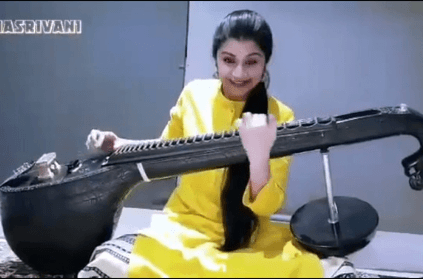 The world is not short of talented individuals. Every now and then we hear of amazing accomplishment by people and they leave us spellbound. And now with social media, it has become all the more easy to spot and praise talent.

The Chairman of Mahindra Group, Anand Mahinda, recently tweeted a video of a woman playing Shankar Mahadevan's popular song 'Breathless'. The song is popular for having no breaks, stanzas or even a pause for breath - hence the name!

In the video posted by Mahindra, the woman was seen playing the song on a veena. And just like the song, her performance is leaving people breathless and amazed. Take a look
Some upbeat notes to end Saturday with. Veenasrivani, you left me breathless & wondering how your fingers survived that rapid-fire performance... pic.twitter.com/eSKuFZdQDU

— anand mahindra (@anandmahindra) October 20, 2018
People were mesmerized by the way she played the song with such ease. More importantly, she seemed to be enjoying the song more than anyone else. Twitterati flooded Mahindra's tweet with praises.
That's not as easy as she made it look like. Made my day.

— Wanderer (@crazymadddy) October 20, 2018
Thanks bro

That made my heart palpitate

— Trishank ∞ Karthik (@trishankkarthik) October 20, 2018
Most imp- she was enjoying her own act- marvelous 👌🏻👌🏻👏🏼👏🏼👏🏼

— Bhavesh Ganesh Sonawane (@BhaveshMH12) October 21, 2018
Beautiful, uplifting. Bravo Veenasrivani!

Imagine how utterly mired in our mundane everyday preoccupations we wd be without these beautiful inspirational pure hearted musicians, I can't even bear to think about it.

Bless them all.🙏👏👏👏🤩

— GetafixtheDruid (@onecosmicbeing) October 21, 2018
Tags :
#TWITTER #SHANKAR MAHADEVAN #BREATHLESS #VEENA #TALENT #VIRAL #TRENDING
next