PEOPLE CAN'T STOP FREAKING OUT OVER THIS VIRAL VIDEO OF THE 'BREATHING' FOREST
Home >
News Shots >
World
By

Behindwoods News Bureau

|

Oct 24, 2018 12:44 PM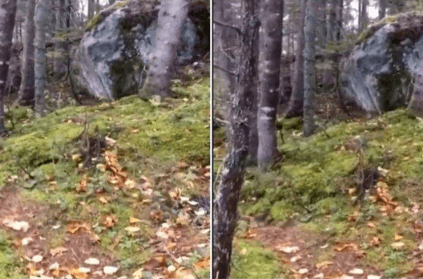 It's Halloween season and in case horror movies and TV shows are'nt scaring you enough, sit back and let nature do the work this time.

A video of a 'breathing' forest has managed to freak out people on the internet. Let go of clowns, and 'other-worldly' things, because nothing is more scarier than nature!

Shared on Twitter by a user named @DannyDutch, the video shows trees moving and the ground shaking violently. Filmed at the Quebec forest in Canada, the video shows the forest moving in a similar manner to how human beings inhale and exhale.

"The ground looks like it's breathing in this Quebec forest," Daniel wrote in his post.
The ground looks like it's breathing in this Quebec forest. pic.twitter.com/AeETAYJOdN

— Daniel Holland (@DannyDutch) October 20, 2018
And needless to say netizens are baffled and freaked out. Some have even tried to explain the occurence in the video.
Terrifying.

— 🎃 Jack-o-Lantern Stabbit 🎃 (@jackrabbitses) October 20, 2018
October 20, 2018
this is both terrifying and interesting at the same time

— rあfa #mono (@illicit_bts) October 20, 2018
October 21, 2018
Fret not, there is a scientific explanation to this. A certified arborist (a tree surgeon), Mark Vanderwouw, debunked the mystery 6 years ago when a similar video had unearthed. Speaking to The Weather Network, the expert revealed it was nothing but an optical illusion and it had nothing to do with the 'breathing' aspect.

"During a rain and windstorm event the ground becomes saturated, 'loosening' the soil's cohesion with the roots as the wind is blowing on a tree's crown," Vanderwouw said.
The wind is trying to 'push' the trees over, and as the force is transferred to the roots, the ground begins to 'heave'. If the winds were strong enough and lasted long enough more roots would start to break and eventually some of the trees would topple," he explained.
Tags :
#TWITTER #BREATHING FOREST #QUEBEC FOREST #CANADA #VIRAL VIDEOS #TRENDING #HALLOWEEN
next