HELD IN CAPTIVITY FOR 9 YEARS, THIS BEAR'S REACTION TO SNOW FOR THE FIRST TIME IS PURE JOY
Home >
News Shots >
World
By

Behindwoods News Bureau

|

Oct 26, 2018 10:18 AM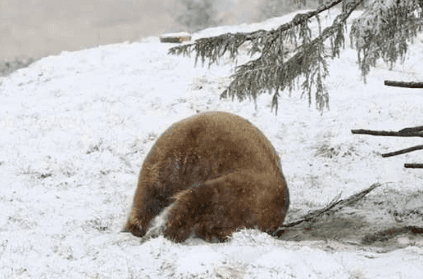 Since 2009, Napa - a 20-year-old snow bear has been living in captivity - inside a cage at a zoo in Serbia. Earlier this year, life totally changed for the senior bear. Napa had been living in captivity for 9 years, when Serbia banned the use of wild animals in circuses.

Amid a life of coercion - being forced to perform for an audience - and confinement, people were determined to give the bear the natural kind of life he never got to know before.
Rescuers from Four Paws, arrived in Serbia, and brought Napa 900 miles by car to a new sanctuary for bears in the Swiss Alps. And for the bear who suddenly had so much lush space to roam, it probably seemed like nothing could make his new home any more beautiful and joyful than it already was.

Napa experienced snow for the first time in his life, and like many of us, he fell in love at first sight. As little flakes swirled around him, Napa was caught on camera playing happily with a big log and then trying to do a somersault in the snow, with the carefree attitude of a cub.

Four Paws, who posted a video of the playing bear on Facebook, wrote, "Napa had a blast!"
Tags :
#FACEBOOK #BEAR #SNOW #SWISS ALPS #BUZZ #VIRAL VIDEOS #TRENDING
next