MEET VRINDA RATHI, INDIA'S FIRST NATIONAL WOMAN UMPIRE
Home >
News Shots >
Sports
By

Behindwoods News Bureau

|

Oct 22, 2018 02:38 PM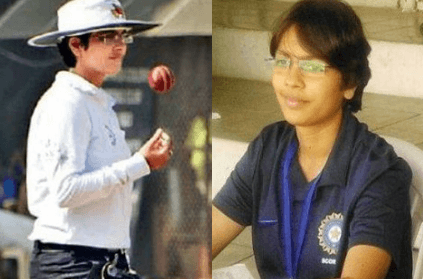 29-year-old Vrinda Rathi is not offended when teenage boys sometimes call her 'Sir'. Women umpires are a rare presence in India. Hence such slips of tongue may be inevitable.

Umpiring is one profession that Indians have never associated with women. But Mumbai's Vrinda Rathi and Chennai's S Janani are set to change that. The two women have cleared the BCCI's exam for umpiring on a national level.

This means that the duo can now officiate women's cricket matches and junior-level boys matches across the country. Vrinda has been a scorer with the BCCI since 2010. She has also umpired many local matches.

"Initially, there were unsubstantiated apprehensions about the quality that a woman umpire may bring in. When everyone around knows that you mean business at the centre of the field, your gender does not matter," she told The Times of India.

It's this inherent patience and "lack of rigidity" in women, Rathi feels, that lends them an edge over men on the field. "Ego is something an umpire cannot afford," says Rathi. She is now preparing to officiate her debut match in Puducherry.
*Originally published in The Times of India*
next